Psychic Stories and Encounters
Edit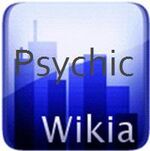 On this page we would like to see a list of your psychic stories or encounters. A struggle with peoples reactions, weird and spooky happenings. We want it all. Just create an article via below and then list it on here!
--DavidJohnson123 08:22, 5 January 2009 (UTC)DavidJohnson123
Create Link
Edit
To create the page for your story to go on use the box below. A story page must be named: Story:StoryName (Obviously replace "StoryName" with the name of your story)
After you have done that use the following to add your story to this database:
Remember the article name of your story (Story:StoryName).
Copy this without quotations: " [[Story:StoryName]] by [[User:YourUsername]]. "
Paste this into the list below in the correct place* and edit accordingly.

Edit Accordingly by changing "StoryName" to your story'd name and "YourUsername" to your username.
* = Stories must be listed in alphabetical order!
Story List
Edit
Reminder: Place stories in alphabetical order!
Story:StoryName by User:YourUsername